Founding Statement
The Climate Leadership Council is an international policy institute founded in collaboration with a who's who of business, opinion and environmental leaders to promote a carbon dividends framework as the most cost-effective, equitable and politically-viable climate solution.
LUNTZ GROUP POLL SHOWS STRONG BIPARTISAN SUPPORT
A new national poll by Luntz Global, a firm founded by Republican pollster Frank Luntz, found 4-1 overall support for our carbon dividends plan, including 2-1 GOP support and 7-1 support from Republicans under the age of 40.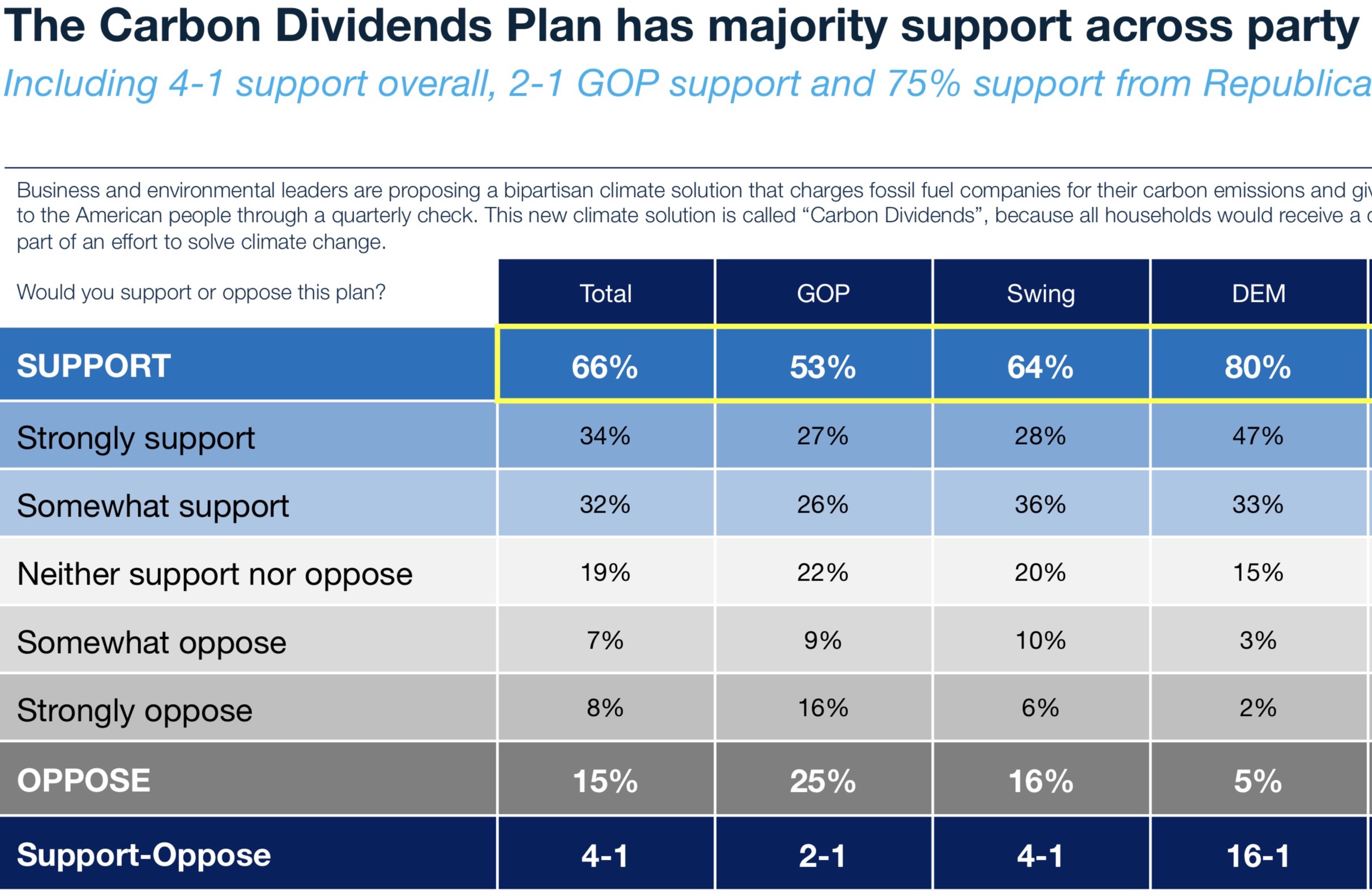 COUNCIL WAYS & MEANS TESTIMONY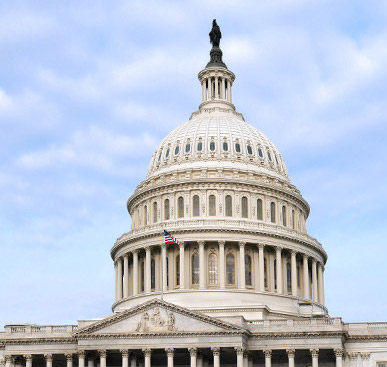 CEO Ted Halstead testified at the House Ways & Means Committee's first climate hearing in 12 years, and presented the business and economic case for our bipartisan climate breakthrough. Read the Testimony
ECONOMISTS' STATEMENT ON CARBON DIVIDENDS
3500+ economists, 27 Nobel laureates, all 4 former Fed Chairs, and 15 former Chairs of the Council of Economic Advisers unite behind carbon dividends as the bipartisan climate solution.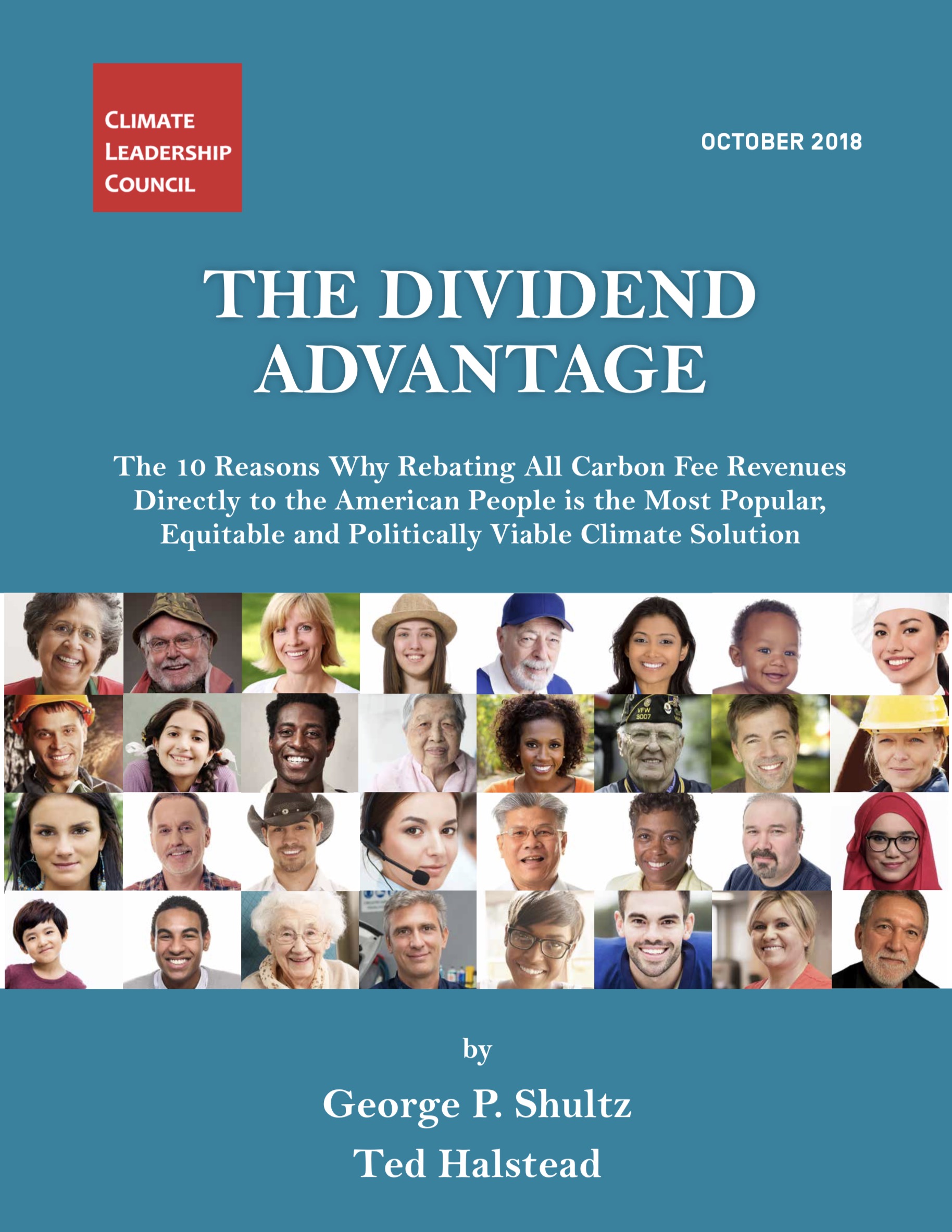 THE DIVIDEND ADVANTAGE
Co-authored by George Shultz and Ted Halstead, this report outlines the top 10 reasons why rebating all carbon fee revenues directly to the American people is the most popular, equitable and politically-viable climate solution.
BAKER-SHULTZ PLAN WOULD SIGNIFICANTLY EXCEED U.S. PARIS TARGET
Why the Council's carbon dividends plan is the most environmentally-ambitious and politically-viable climate solution. With Foreword by Shultz, Summers, Walton, Whitman, Yellen and Halstead.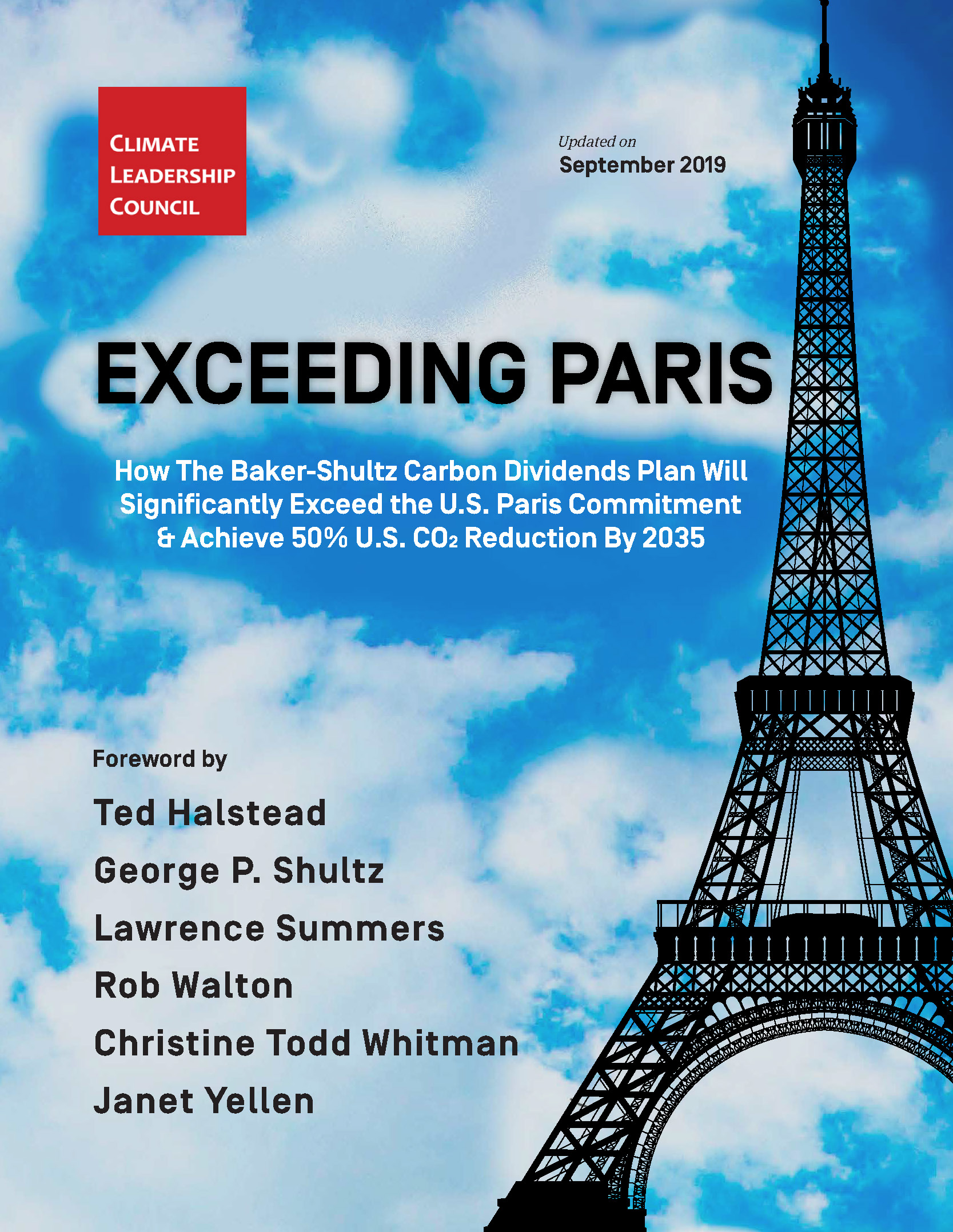 AMERICANS FOR CARBON DIVIDENDS LAUNCHES TO PROMOTE BAKER-SHULTZ PLAN
Co-Chaired by former Senators John Breaux and Trent Lott,
Americans for Carbon Dividends
is an education and advocacy campaign to promote the Baker-Shultz Carbon Dividends Plan.

COUNCIL ANNOUNCES NEW FOUNDING MEMBERS
The Council's newest Founding Members include Individual Members Ben Bernanke, Janet Yellen and Christine Todd Whitman, as well as Corporate Members AECOM, Allianz, AT&T, Exelon, First Solar, and MetLife. Learn More
A WINNING TRADE
This study shows the Baker-Shultz Carbon Dividends Plan would achieve more than triple the emissions reductions of all Obama-era climate regulations, and could exceed the high end of the U.S. Paris Commitment. Read the Report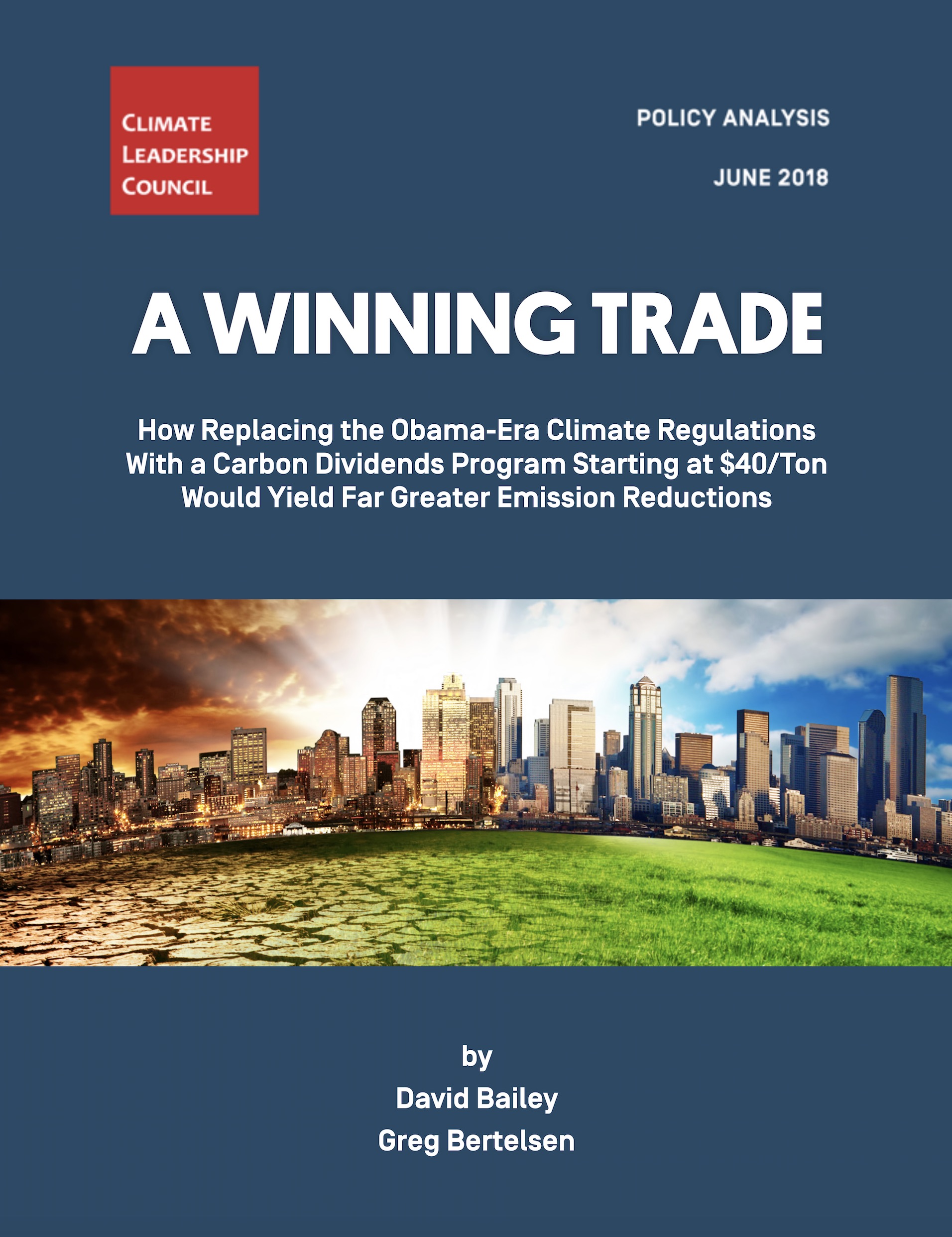 UNPRECEDENTED STUDENT COALITION BACKS COUNCIL'S PLAN
A coalition of 23 college Republican groups, 6 college Democrat groups, and 5 college Environmental groups launch
Students for Carbon Dividends
(S4CD) in February 2018.
COUNCIL ANNOUNCES ITS INITIAL FOUNDING MEMBERS
In June 2017, the Climate Leadership Council announced its initial Founding Members, an exceptionally prominent group of business, opinion and NGO leaders.
"THE CONSENSUS CLIMATE SOLUTION"
In this Wall Street Journal ad, our initial Founding Members state that America needs a consensus climate solution that bridges partisan divides, strengthens our economy and protects our environment. See the Ad
OUR CARBON DIVIDENDS PLAN
The Baker-Shultz Carbon Dividends Plan would strengthen our economy, help working class Americans and protect our shared environment, while bridging partisan divides. Learn More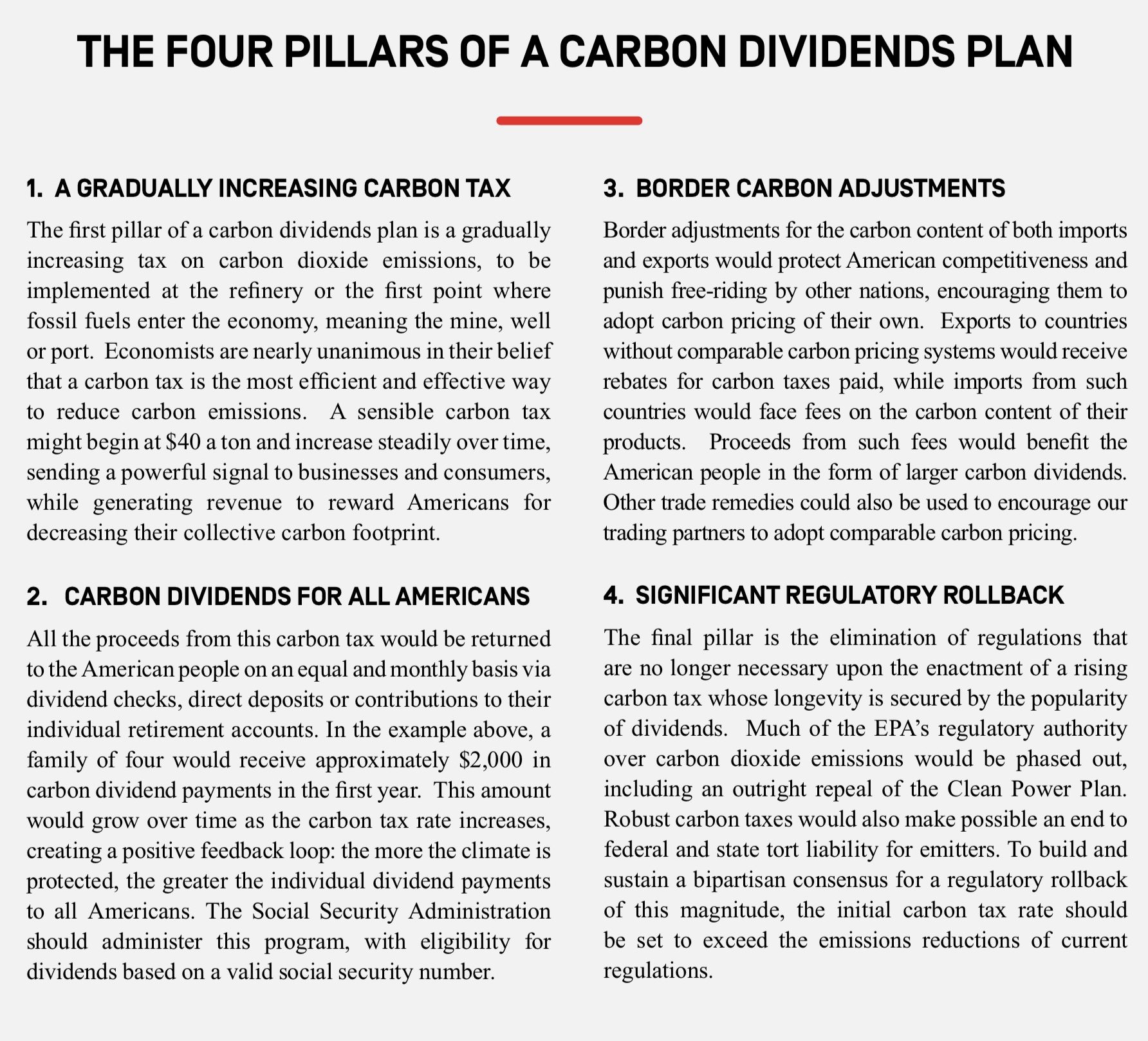 THE CONSERVATIVE CASE FOR CARBON DIVIDENDS
Co-authored by renowned senior statesman, this marks the first time Republican leaders put forth a concrete, market-based climate solution. Read the Report
UNLOCKING THE CLIMATE PUZZLE
Why we are failing to reduce emissions in time, and how a carbon dividends plan could overcome the psychological, economic and political barriers. Read the Report
TREASURY ANALYSIS
According to this recent analysis from the Treasury Department, the bottom 70% of Americans would be financially better off under a carbon dividends program. Learn More
OUR TED TALK
Total Views: 1.3M+
JAMES A. BAKER III
FOX NEWS
JANET YELLEN
BLOOMBERG
N. GREGORY MANKIW
MARTIN FELDSTEIN
ASPEN IDEAS FESTIVAL
COUNCIL LAUNCH EVENT